1. Selbu Moderne in Kiogu: Frogged
Way too big for me, ran out of white yarn, got sick of it, decided I hate Koigu.



2. Queen Anne's Lace, cashmere/silk blend: This is going to be a marathon. I'm on row 48 of about 156. Of course, the rows get longer and longer as I go. I'm doing 2-3 rows a day, but I'm going to have to pick up the pace if I'm going to have it ready for a November wedding. It's a very intuitive knit so far, but the repeats are only up to 7 sts. I'm nervous for when they get to be 20 or 30 sts each. The yarn is a joy, plus it was 50% off, so the whole shawl should cost me < $50.


3. Noro socks: A beach knit. My own pattern. One sock almost done, needs binding off. Not sure how I feel about starting the other. I guess I'm indifferent. The yarn is sort of scratchy, but the colors are amazing. I'm also not sure if I want matchy-matchy or fraternal. I can't imagine wearing these anywhere in public, so fraternal might be my best bet.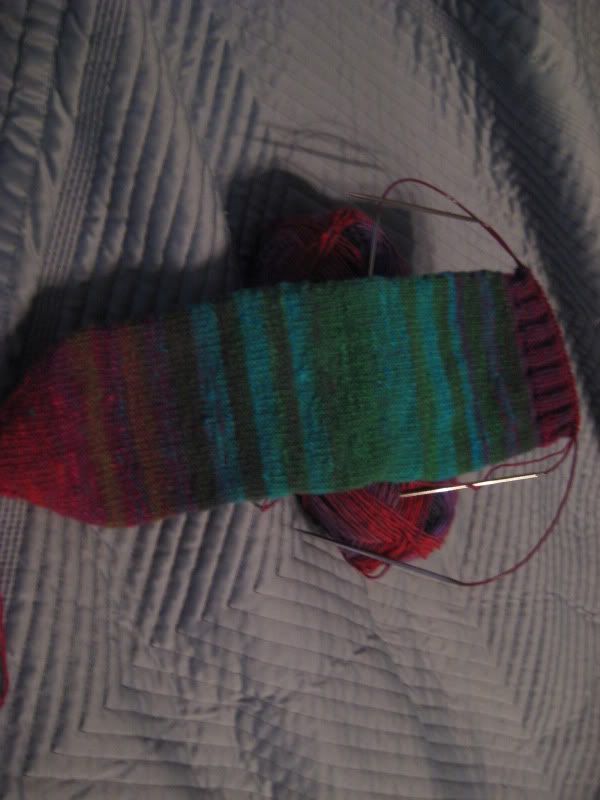 4. Buttony Sweater, Wendy Fusion Superwash wool/acrylic: My duct tape dress form seems to be a little large. The sweater fits fine on me, but I couldn't get it fastened over the form. The yarn got itchy after washing; I might try fabric softener next time and see if that helps. You'll have to excuse the messy counter in the background.



I've also got a few sewing projects going on, but it's nothing to elaborate on just yet.