If anyone visits this site, it's probably in hopes of knitting content or delicious yarn pron. Of course there's seldom any of that. In truth, I did finish one endpaper mitt, and I'm up to the instep of some Widdershins in some loverly Socks That Rock in Lucy.
But I don't have photos.
I also don't have photos of the great stuff my PRGE pal, Staci, sent me this weekend. Purse kits for my girls (they love) yarn for a clapotis (I love) and more random, yummy yarn to do with as I please ( I also love) Oh, and a dragonfly clip. How did you know I have a secret love of bugs? I'm pretty sure I didn't put that on the questionnaire.
Yes, that's MY studio. For knitting, painting, sewing, soaping, and other general craftiness. The blue-green walls are an homage to my love of all things Tiffany.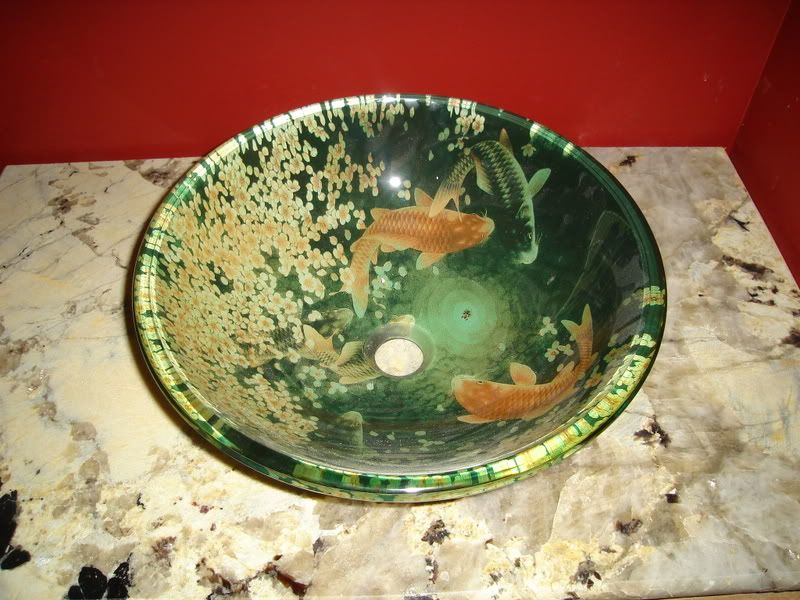 Another thing I am loving is my guest bathroom sink and countertop. The sink is from overstock and the counter is granite.
Isn't it lovely? The faucet will look like bamboo and I will paint a few strategically placed Louisiana iris on the wall in a corner.
Here's the front.